Untitled (OMG totally...), 2017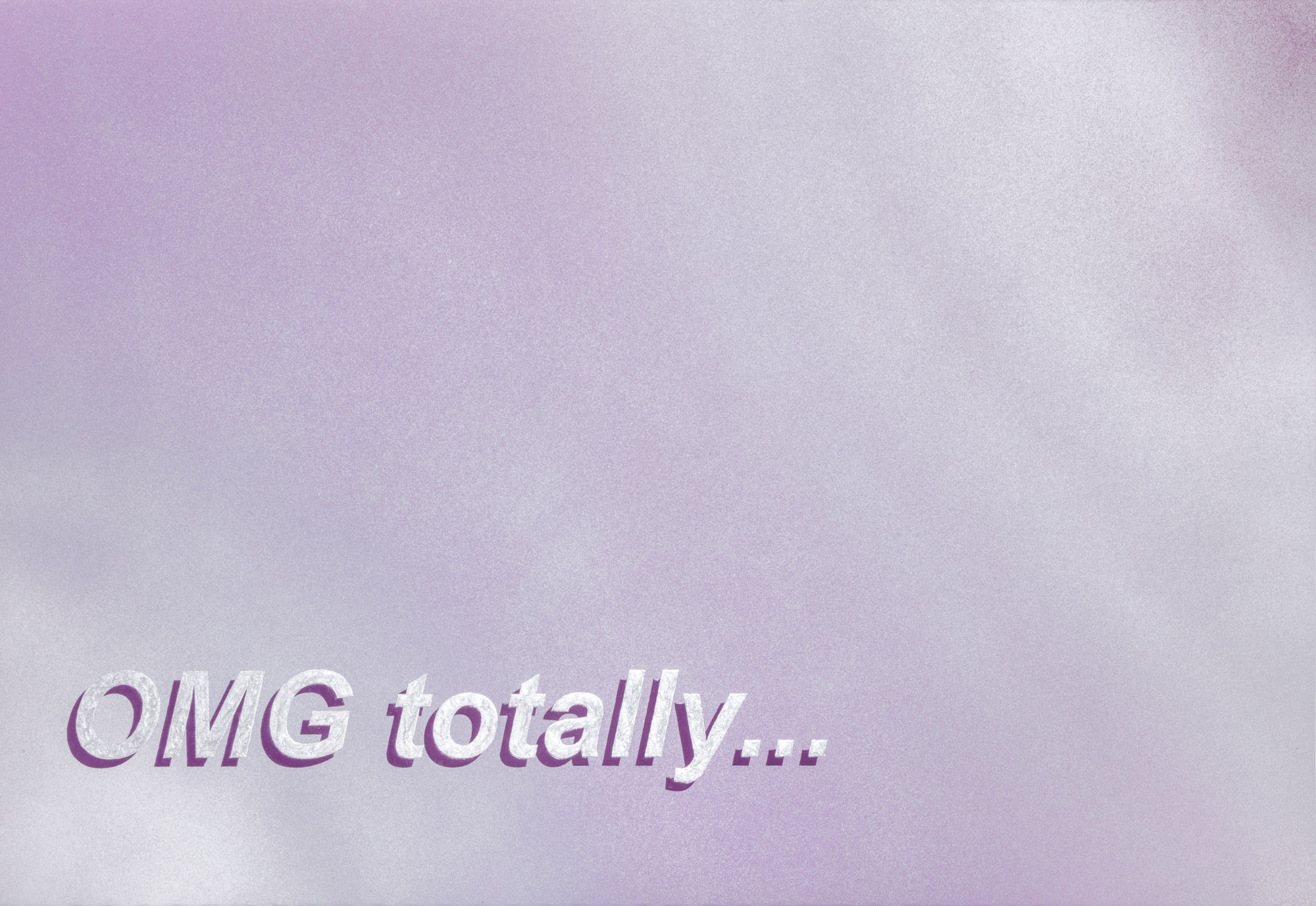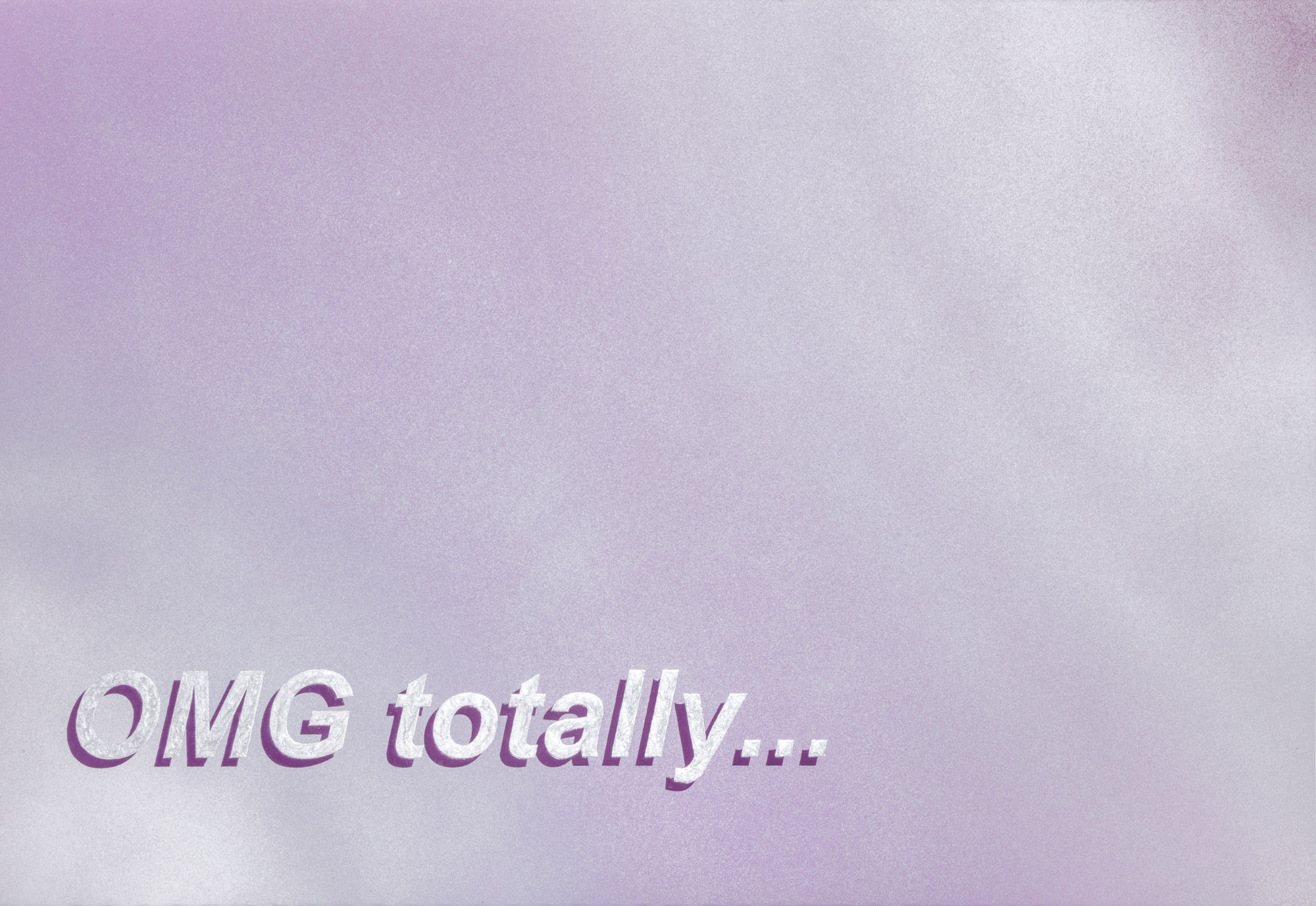 Untitled (OMG totally...), 2017
Untitled (OMG totally...), 2017 is a unique contemporary textual painting on paper. The artist first creates a unique background atmosphere with matte spray paint and then meticulously hand-paints text in his material of choice, nail enamel.
Artwork is sold framed in solid wood with museum Plexiglas. Framed artwork measures 36 x 48 in.; paper measures 33 1/2 x 44 in.
ABOUT THE ARTIST
Raised in Santa Cruz, California, Rusconi studied at Pepperdine University, and now lives and works in Los Angeles.
Rusconi's work is comprised of portraits, usually of those who make up and influence popular culture, ranging from musicians and artists, to poets and politicians. His first solo exhibition, American Boarders, was at the Stellan Holm Gallery in New York, which featured the world's top ten skateboarders. Other themes in the work include the use of language and text, as well as images that are circulating through the myriad of media that we are confronted with daily, from magazine covers to video news feeds.
The artist's fascination with the portrait has an obvious connection to the works of Andy Warhol, exemplified by Rusconi's earlier painting entitled Blue Katie, which is a play on Warhol's Blue Jackie. Rusconi was mesmerized as a young man looking at Warhol portraits at the Leo Castelli Gallery in New York. When Arsenic Magazine asked about other influences, Rusconi responds, "Robert Rauschenberg, Chuck Close, Sol LeWitt and Ed Ruscha. Rauschenberg gave me the freedom to do whatever I wanted. Chuck Close reminds me of how relevant the portrait is and always will be. Sol LeWitt instills focus and Ed Ruscha allows humor to coexist with importance."
Rusconi's investigation and interest in the portrait begins with his own photo-based images as well as found or sourced materials. Earlier work was a digital screening process on Plexiglas layered with monochromatic photography. His work now is a process of hand applying nail polish onto Plexiglas. These paintings are often combined with an additional layer of Plexiglas with engine enamel and/or acrylic spray paint which allows for a shadow image to be projected on the substrate.
Rusconi's practice involves a concern with painting those around him, known and unknown. To him a portrait is not only the conveyance of likeness, but the subtlety of emotion and expression that's found somewhere between the light and shadow of one's face. Likeness and recognition is a concern, but essence is the primary focus as Rusconi approaches a subject. With most of his paintings, in observing the surface, one can see that it is comprised of a pattern that recalls the Benday dots of Roy Lichtenstein. Unlike Lichtenstein's use of the Benday dot, which is uniform in size, Rusconi uses different sized dots to create the illusion of convex and concave shapes on a two dimensional surface.
The latest body of work is comprised of approximately 100 text-based paintings on paper, which Rusconi also considers portraits. Words and or phrases captured in nail enamel and spray paint seem to take on unique personalities and are brought to life by their ambiguity and color.
Works by Rusconi are included in numerous private collections and public art institutions, including The Frederick R. Weisman Art Foundation, The Jumex Foundation, The Batonga Foundation, The Castilla Foundation, The Carnegie Art Museum and Abroms-Engel Institute for the Visual Arts.